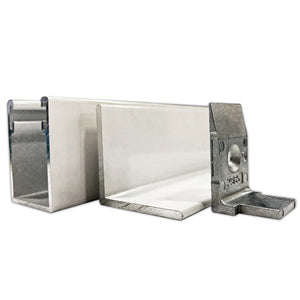 Bottom Stops (Pair)
When installing a security shutter system on an application where the guide rails will not contact the ground or have a flat surface to rest on, it will be imperative to install bottom stops inside both guide rails. This will prevent the curtain from coming out or resting unevenly when closed.
Bottom stops come in a pair and all mounting hardware is included. They easily slide in from the bottom of the Heroal HTF guide rails. Then secured with countersunk stainless steel philips head screws. It is a must for every surface mount roll shutter application. $2.47 /pair.
U - Sill
Best used for counter shutters and liquor cabinets to prevent burglars from prying the rolling shutter up-words. $9.96 /foot.
L - Sill 
Ideal resting surface for face of wall mounted exterior window shutters. Minimizes debris and ice build up. From $7.89 /foot.
Bottom Standard Guide Rail (HTF)
Perfect solution for a pharmacy lock n leave to allow operation without a pharmacist physically present. As well as cannabis dispensaries, security rooms, gun cabinets, panic rooms and many other high security applications. When the shutter if fully closed, it allows the bottom end-slat to sit 1" deep inside the guide rail channel. Locking in it place and preventing the possibility of the roll shutter curtain from being pried up-words. $12.48 /foot.